Hailey's official Land Use Map establishes a basis and direction for the expansion
and/or location of business, residential, industrial, institutional and green space areas within and adjacent to the City.
A Land Use Map is a required element of the Land Use component of the Comprehensive Plan. Pursuant to Idaho Code requirements, the Land Use Map reflects suitable projected land uses for the City. The creation of a land use map establishes general direction for projected land uses within and adjacent to the city. The Land Use Map depicts broad community goals.
When considering land use applications, site-specific data and circumstances should be balanced with the overall goals depicted on the map. The following land use related goals, and the associated Land Use Map, are intended to establish principles to help guide future development. The goals are not intended to be prescriptive. It is important to recognize that there are often tradeoffs that have to be evaluated in land use decisions. It is also important to acknowledge that to encourage development of a certain type in specific areas will likely require thoughtful and creative incentives.
As described below, land-use planning and zoning decisions are guided by the stipulations of Zoning Districts and public processes laid out in Hailey's Municipal Code. Each week, City staff and its governing bodies process the community's initiatives to develop within the City's vision or to amend it.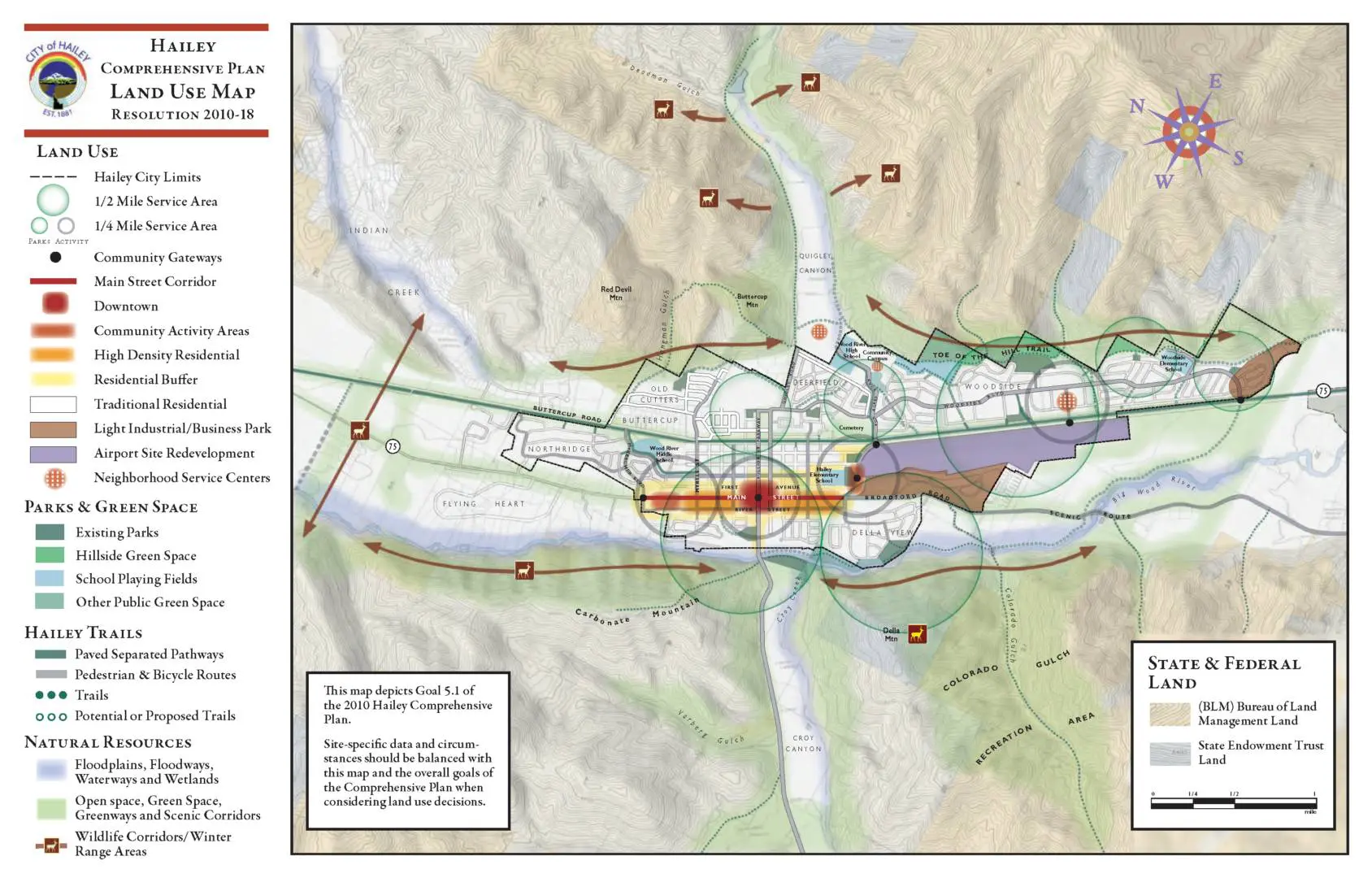 Hailey's Zoning Districts
Land use goals may be achieved, in part, through effective zoning. The Municipal Code governing Zoning Districts regulates land uses, for example determining what types of commercial, residential, industrial uses are desired in different areas of Hailey. Hailey's Land Use and Zoning Maps, as well as ongoing efforts and decisions regarding developments and amendments to the Municipal Code, are determined through iterative democratic processes. Such process include Public Hearings of community driven applications at public City Council and Planning and Zoning Commission meetings, with elected and appointed officials.
Community Development Department