Hailey Police Welcomes New Staff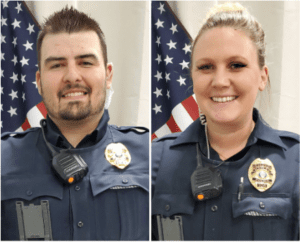 Our Police Department is excited to announce the two newest officers to join their team, Patrol Officers Preston Wells and Kylie Jones.  Preston and Kylie are both natives of Idaho, although Preston is from southeastern Idaho and Kylie is from the Treasure Valley.
Law Enforcement runs deep in Preston's family history and this is what gravitated him toward this esteemed profession.  Preston is also an avid hunter, a former college and semi-pro baseball player, and enjoys the outdoors with his wife and two children.
Kylie has has a passion to join the law enforcement ranks for several years now, and we are happy it was able to come to fruition with our department.  Kylie also is a graduate of Boise State University, a small business owner, and enjoys what Idaho has to offer.