Garbage Rates to Increase Jan. 2023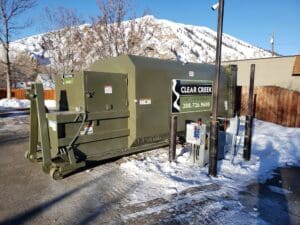 Garbage Rates to increase in January 2023 due to inflation and fuel costs.
The Hailey City Council has approved a garbage collection rate increase based on several key inflationary factors:
-13% increase in labor costs
-76% increase in fuel costs
-11 % increase in tipping fees at Milner Butte Landfill
The rate for residential customers will increase 6.6%.  The commercial rate will increase by 9%.  See the full rate table here.
In the meantime, progress has been made over the last year to explore expanded recycling opportunities in Hailey.  This includes:
Successful installation of the new Corrugated Carboard Compactor. The compactor was installed by Clear Creek Disposal on February 1, 2022.  The contamination rate of the recycling has decreased significantly thanks to the new equipment. The installation of cameras has allowed staff and/or Clear Creek to contact violators (those leaving other than carboard at the site), educate those who do not use the machine correctly and leave their carboard outside of the compactor (see recent Hailey Facebook post on this matter) and other violations.
Regional Sustainability planning, recycling and waste reduction. Hailey staff members have been active participants in the ongoing regional sustainability effort led by Blaine County. Hailey staff have helped lead and participated in the development of the Circular Economy Taskforce. This Taskforce, which includes Hailey, the other local jurisdictions, Southern Idaho Solid Waste, Clear Creek Disposal, Winn's Composting, and other stakeholders, has established regional goals for recycling and waste reduction.  These goals will be part of a holistic Blaine County Climate Action Plan. The strongest, most successful recycling efforts will result from this regional collaboration, and staff does not recommend that Hailey embark on a separate curbside recycling program until the regional effort is completed.
Countywide Request for Proposals to study recycling opportunities. The County is preparing a Request for Proposal this fall/winter to study the pros and cons of all options to increase the recycling rate, including rate setting on a countywide basis.  This study will greatly inform Hailey as to recycling possibilities and will introduce new factual information.
Grant for community compost sites. Hailey was recently awarded a $31,575 grant to install three (3) community compost bins, and to conduct public outreach and education on this program.  The bins will be delivered in 2023.  Staff is working with Clear Creek Disposal and other stakeholders to determine a project launch date.
Hailey will continue to participate in the regional sustainability effort and re-examine curbside recycling opportunities as needed after a regional plan is developed. The launch of the community compost program in 2023 will provide essential information to the community to divert compostable waste from the landfill.