Meet Our Staff: Jennifer Pomerleau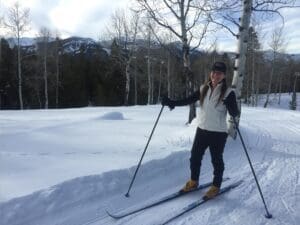 My name is Jennifer Pomerleau, and I am the Deputy City Clerk in charge of utility billing. I was fortunate to join the City of Hailey in January 2020, and in the late spring, I took on utility billing. My role starts when some type of City service is commenced – water, wastewater and/or garbage. I manage all aspects of utility billing, from the creation to final billing, managing details in each account and the rates and services applied to the accounts, preparing and sending bills, and the delinquency process. I also work with accountholders through our leak adjustment process. I work closely with the Water Department and the Front Desk on a daily basis, and I would be lost without them.  Please do not hesitate to reach out to me with questions or concerns. Email is easiest: utility.billing@haileycityhall.org, but you can also call the City and ask for me.  In case you were wondering, I have two things at the top of my list to Santa:
An update from all my customers with their best mailing address, email address and phone numbers;
That my customers keep an eye on their winter water usage (gallons, not dollars), and reach out to me if it seems high. The Hailey single-family residential average is 4000 gallons. If yours is higher, do you have a leak?  Are you using too much water?  Does your usage seem reasonable to you?  If it seems high, please reach out to me!
I am married to a Quebecois fish biologist and aquaculturist.  I have three grown sons, one daughter-in-law, and the most amazing granddaughter. My husband and I have found ourselves operating a small menagerie of three rescue dogs – a red husky, a chihuahua, and a little terrier mix, a grandlizard, five grandfish, and our longtime husky – who seems a bit bewildered as to where the quiet went. Besides dogs, I have more interests than time or good sense. To add the finishing touch to my description, I was asked to give a "few sentences," and I think I have stopped at 3 paragraphs.