Hailey Receives Additional Pathway Funding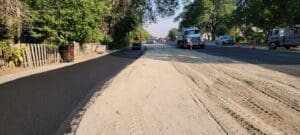 Hailey receives extra pathway funding from Idaho Local Highway
Technical Assistance Council
The City of Hailey is poised to begin construction on two new pathway projects this spring. The City
Council accepted bids on Monday night for the following:
McKercher Pathway, a pathway filling a missing link and creating a safe connection between River Street and Main Street on the south side of McKercher Boulevard. Bid awarded to B & G Dirtworks in the amount of $282,320.
Croy to Quigley Pathway, a second missing link pathway connecting the Croy pathway from the Wood River Trail east to the new Sunbeam Subdivision pathway. Bid awarded to Intermountain Construction in the amount of $563,888. This project was funded last year with a TAP grant of $400,000 towards project construction.
Hailey, like other municipalities, has struggled to complete public works projects due to limited contractor and supply chain issues. The bid requests for the two projects were advertised for 4 weeks and sent to 11 contractors. Only one contractor bid on each project. The Croy to Quigley Pathway was in danger of cancellation due to the fact that the single bid exceeded grant funds by $163,888. After hearing of the construction funding shortfall, Idaho Local Highway Technical Assistance Council offered the City a one-time increase to fund the gap.
States Hailey Mayor Martha Burke: "I am thrilled that the Local Highway Technical Assistance Council has available funds to step-in this year and make this project a reality. Pathway completion is one of our top goals. It is through partnerships such as this that we bring quality-of-life amenities
to our community and make it safe to walk and bike around Hailey."