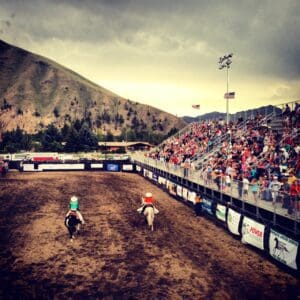 Location: The old rodeo grounds site, at the intersection of Airport Way and Main St.
About This Park: Wertheimer Park consists of the following amenities:
Hailey Arena - The Hailey Arena is an outdoor event venue available for rental. Please check the arena rental and availability page for more information. Upcoming scheduled events are listed on the events page.
Hailey Skate Park - The world class Hailey Skate Park - built by Dreamland Skateparks - challenges even the most experienced and daring skaters.
Cultural Exhibits and Welcome Center - Learn about Wertheimer Park's unique cultural heritage through exhibits, artifacts and oral histories. The "Coming Together Through Time" exhibit is located inside the Hailey Welcome Center. The Hailey Chamber of Commerce is also located inside the Hailey Welcome Center.
Campion Ice House - Please see the Hailey Ice website for details.