A 44-unit apartment building design at "40 McKercher", in the Business and Downtown Residential Overlay Zoning Districts, was approved by the Hailey Planning & Zoning Commission on September 19, 2022.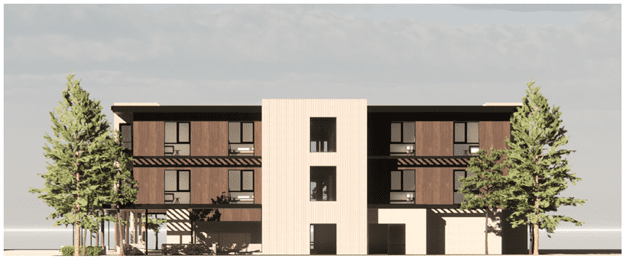 In compliance with the stipulations of its Zoning Districts, 40 McKercher will comprise of:
44 residential units, including:

Eight (8) two-bedroom units (1,226 sq. ft.)
Fourteen (14) one-bedroom units (624 sq. ft.)
Twenty-two (22) studio units (553 sq. ft.)

56 total parking spaces, including:

35 parking spaces within the enclosure (regular, compact, ADA, guest)
21 parking spaces along the eastern side of the building (covered, uncovered, regular, compact, ADA, guest)

Shared vehicular access from existing easement between Lot 1A and 1B
Secondary Driveway Access, Drainage, Landscaping and Utility Easement along east side of building
Reconstruction of the McKercher shared-use path, to be 10 ft. in width
3,800 square feet of common useable open space
Additional covered storage for all residential units
The project is adhering to Hailey's Build Better Program, as well as the US Green Building initiatives by incorporating Glulam/CLT and modular wood construction, utilizing Energy Start appliances, and future proofed for solar and electric-vehicle charging into their building design.
Learn more about what types of housing units and developments are permitted and encouraged in Hailey's different Zoning Districts.