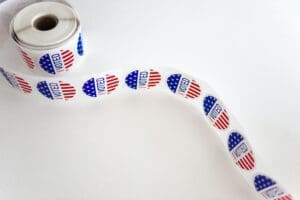 Election Day is May 16!
Tuesday, May 16, 2023, is a special election. Hailey has two questions before the voters:
$6 million Municipal Wastewater Bond: Aging Headworks Infrastructure
1% Local Option Tax for Housing/Air
In-Person Early voting begins three weeks before any election (May 1, 2023) and takes place at the Blaine County Courthouse on the first floor. Hours are Monday through Friday from 8 AM to 5 PM.  The last day for early voting is the Friday before election day.
Absentee Ballots may be requested anytime online at Vote Idaho. The County Clerk begins mailing ballots on (April 17, 2023) to voters who have requested an absentee ballot. The request can be made online or by printing and completing the paper form. Return it via email, mail, or drop it off at the Blaine County Elections Office located at 206 1st Ave S. Ste 100, Hailey, ID 83333-8429. The last day for the Clerk's office to receive requests for absentee ballots is 11 days prior to the election (May 5, 2023). Ballots must be returned to the County election office by 8 PM on election night.
Election Day Polling Places.  On Election Day voters who have not voted early or by absentee ballot must visit their polling places between 8 AM and 8 PM. Hailey election day polling precincts are all located at the Blaine County Community Campus, 1050 Fox Acres Rd, Hailey, ID 83333.
Click here for Q & A regarding the $6 million Aging Headworks Infrastructure bond
Click here for more information regarding the 1% for Housing/Air Local Option Tax ballot measure