OHV's, Scooters and More – Safety Please!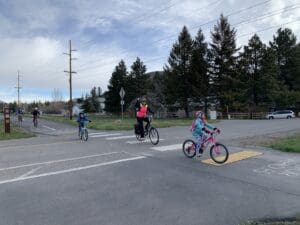 Operating an OHV on City roads:
Valid restricted vehicle license plate; IC 49-402(4)
Valid IDPR OHV certificate of number sticker affixed to restricted vehicle license plate for resident and nonresident; IC 67-7122
Valid driver's license; IC 49-301
Liability insurance or alternative insurance; IC 49-1223 or IC 49-1232
A DOT-approved helmet under age 18; IC 49-666
Muffler and U.S. Forest Service approved spark arrestor.  Your muffler must be at or below 96dB at the half-meter test. SAE J1287; IC 67-7125
For safe operation on roads the following equipment is recommended:
Brake light
Headlight and taillight after dark/poor visibility.
Horn audible at 200 feet.
Mirror showing roadway 200 feet behind the OHV.
Hailey City Ordinance 12.12.030: RAILROAD RIGHT-OF-WAY (BIKE PATH):
For 15' on either side of the Bike Path Centerline:  the railroad right-of-way shall only be used for recreational uses by any pedestrians, equestrians, cross country skiers, snowshoers, and bicycles, e-bikes, alternative electric motored vehicles, wheelchairs, and OPDMDs. Except when necessary for construction of improvements or maintenance of the railroad right-of-way, no automobiles, motorcycles, mopeds, alternative electric motored vehicles over seven hundred fifty (750) watts, or e-bikes that do not require human power for primary propulsion, shall be permitted on the railroad right-of-way. (Ord. 1307, 2022; Ord. 1030 § 1, 2009).
Violation of this is Ordinance is a $300 fine.
eBikes are a great tool to get around town, but please know their limitations and obey the rules of the road when operating them.