Christmas Tree Composting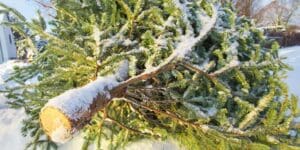 Hailey offers a free Christmas Tree drop off site at Lions Park (255 Croy Creek Road). You may drop off your clean tree starting Monday, December 26  and ending Sunday, January 15 at Lions Park only. Please be sure to remove all lights, ornaments and tree stands. Clear Creek Disposal brings the trees to Winn's Compost to be chipped and turned into compost. If the trees are contaminated with manufactured items, they cannot be composted and have to be thrown away. This site is for Christmas Trees only, do not drop off garlands or wreathes – these items typically contain non-compostable wiring and decorations. You can leave the tree in its entirety, it does not need to be cut up! Please remember that anything that is contaminated will be thrown away.
If you have any questions, contact Clear Creek Disposal at 208-726-9600.